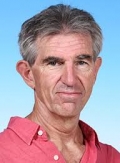 Gerald R PATCHELL
Ph.D.(1991), Simon Frazer University
Associate Professor, Division of Environment and Sustainability
Associate Professor, Division of Social Science
Tel: (852) 2358 7781
Fax: (852) 2335 0014
Email: sopatch@ust.hk
Office: Rm 2354 (Lift 3)

Research Interests
Business and Environment
Environmental Economic Geography
Japan
The Organization of Variety
Sustainable Development
Territorial and Inter-firm Cooperation
Representative Publications
Books
Patchell, Jerry and Roger Hayter 2016 Economic Geography: an institutional approach (Toronto: Oxford University Press) 2nd edition.
Patchell, Jerry 2011 The Territorial Organization of Variety: cooperation and competition in Bordeaux, Napa, and Chianti Classico (Aldershot: Ashgate).
Refereed Journals
Patchell, Jerry and Cheng, Christopher "Resilience of an inshore fishing population in Hong Kong: paradox and potential for sustainable fishery policy," Marine Policy, 99 (2019): 157-169
Patchell, Jerry. "Can the implications of the GHG Protocol's scope 3 standard be realized?" Journal of Cleaner Production. 185 (2018): 941–958.
Patchell, Jerry. "Evolution of collective action in a ski resort facing declining domestic demand and inbound opportunity: Hakuba's dynamic downsizing." Environment and Planning A 46 (2014): 2752-2768.
Patchell, Jerry and Roger Hayter. "How Big Business Can Save the Climate: Multinational Corporations Can Succeed Where Governments Have Failed." Foreign Affairs 92 (2013): 17-22.
Patchell, Jerry and Roger Hayter. "Environmental and evolutionary economic geography: time for EEG2?" Geografiska Annaler: Series B, Human Geography 95 (2013): 111–130.
Others
Hayter, Roger and Jerry Patchell "Resources and Development." In The Wiley-AAG International Encyclopedia of Geography Oxford: Elsevier, 2017.
Hayter, Roger and Jerry Patchell "Resource Geography." In International Encyclopedia of Social and Behavioral Sciences 2nd Edition Oxford: Elsevier, 2015 volume 19, pp. 13266–13269.
Patchell, Jerry. "The intersection of sectoral and geographical approaches to industrial ecology: considerations from the Japanese home appliance industry" In International Perspectives on Industrial Ecology, edited by Pauline Deutz, Donald Lyons, and Jun Bi. Chetlenham: Edward Elgar, 2015. 175-190.