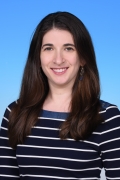 Kira MATUS
PhD (2009), Harvard University, USA
Professor, Division of Environment and Sustainability
Associate Head and Professor, Division of Public Policy
Tel: (852) 3469 2730
Fax: (852) 2335 0014
Email: kmatus@ust.hk
Office: Room 4616D (Lift 31/32)

Research Area
My primary research focus is at the intersection of innovation, sustainability science, and public policy, focusing on sustainable production-consumption systems. A large portion of my research is on how policy interacts with the development and implementation of "green" technologies in supply chains, especially those that include the production and/or use of chemicals. I look at how policy can incentivize innovation- but also at how innovation can feed-back into policy, and when new technologies allow for, and sometimes even demand, new approaches to policy on the part of public, private and civil society actors. This includes areas such as certification and voluntary regulatory tools, as examples of some of the different approaches being used to effectively regulation emerging technologies. I also have a longstanding interest in the use of scientific expertise in the policy process, which has led to work on the controversies surrounding efforts to control bovine Tb with the culling badgers in the UK and possums in the NZ.
Research Interests
Innovation for sustainable development
Sustainable production and consumption/ sustainable manufacturing
Green Chemistry and engineering
Science advice in public policy
Regulation of emerging technologies
Sustainability science
Recent publications
Stepehnson, Matthew., Lejarrage, Iza., Matus, Kira., Mulugetta, Yacob., Yarime, Masaru., Zhan, James. (2021). SusTech: enabling new technologies to drive sustainable development through value chains. T20-Italy Task Force on Digital Transformations. https://papers.ssrn.com/sol3/papers.cfm?abstract_id=3952288
Matus, Kira. (2021). Public Policy and Perception Considerations. In "How to Commercialize Chemical Technologies for a Sustainable Future" Clark, Timothy J. and Pasternak, Andrew (eds). Wiley Publishing.
Matus, Kira and Veale, Michael. (2021). The use of certification to regulate the social impacts of machine learning: Lessons from sustainability certification. Regulation & Governance. (forthcoming; published online June 9, 2021) https://doi.org/10.1111/rego.12417
Bernal, Marie N., and Matus, Kira. (2020). Media Attention and Policy Response: 21st Century Chemical Regulation in the United States. Science and Public Policy, 47 (4), 548-560 (published 07 October 2020)
Donadelli, Flavia and Matus, Kira. (2019). Using Private Regulation for the Public Good. In The Palgrave Handbook of the Public Servant, Sullivan, Helen and Helen Dickson (eds). Palgrave Macmillan.
P Schröder, P Vergragt, HS Brown, L Dendler, N Gorenflo, K Matus, (2019). Advancing Sustainable Consumption and Production in Cities-A Transdisciplinary Research and Stakeholder Engagement Framework to Address Consumption-based Emissions and Impacts, Journal of cleaner production 213, 114-125.
Anadon, L.D., Chan, G., Harley, A.G., Matus, K., Moon, S., Murthy, S.L., Clark, W.C., (2016). Making technological innovation work for sustainable development. Proceedings of the National Academy of Sciences.
Vergragt, P.J., Dendler, L., de Jong, M., Matus, K., (2016). Transitions to sustainable consumption and production in cities. Journal of Cleaner Production 134, Part A, 1–12.
Lodge, Martin and Matus, Kira J. M. (2014) Science, badgers, politics: advocacy coalitions and policy change in bovine tuberculosis policy in Britain. Policy Studies Journal, 42 (3). pp. 367-390.
Matus, K. (2014) Capacity, Innovation and their Interaction in Multistakeholder Sustainability Initiatives. In M. Lodge and K. Wegrich, eds. 'Governance capacities of the contemporary state: HERTIE Governance Report 2014.' Oxford University Press, Oxford, UK.
Representative publications
Maguire, S., Iles, A., Matus, K., Mulvihill, M., Scharzman, MR., and Wilson, MP. Bringing new meanings to molecules by integrating green chemistry and the social sciences. in ISSC and UNESCO (2013), World Social Science Report 2013, Changing Global Environments. OECD Publishing and UNESCO Publishing. Paris.
Matus, Kira JM, Paul T. Anastas, and Julie B. Zimmerman (2012). Barriers to the Implementation of Green Chemistry in the United States. Environmental Science & Technology 46 (20), pp 10892–10899.
Barry, M., Cashore, B., Clay, J., Fernandez, M., Lebel, L., Lyon, T., Mallet, P., Matus, K., Melchett, P., Vandenbergh, M., Vis, J.K., and Whelen, T. Toward Sustainability: The Roles and Limitations of Certification. The State-of-Knowledge Assessment of Standards and Certification, Washington DC. 2012. http://www.resolv.org/site-assessment/about/.
Matus, Kira J.M, Xiao Xin, and Julie B Zimmerman (2012). Green Chemistry and Green Engineering in China: Trends, Policies and Barriers. Journal of cleaner production, 32, 193-203.
Matus, Kira J. M., Kyung-Min Nam, Noelle E Selin, Lok N Lamsal, John M Reilly, and Sergey Paltsev. (2012) Health Damages from Air Pollution in China. Global Environmental Change. 22(1) pp. 55-66.
Matus, Kira J.M, James E Hutchison, Robert Peoples, Skip Rung and Robert Tanguay. (2011) Green Nanotechnology Challenges And Opportunities. American Chemical Society. http://greennano.org/sites/greennano2.uoregon.edu/files/GCI_WP_GN10.pdf
Matus, Kira J. M. (2010) Innovating for development: policy incentives for a cleaner supply chain: the case of green chemistry. Journal of international affairs, 64 (1). pp. 121-136.
Matus, Kira J. M., Julie B Zimmerman and Evan Beach. (2010) A proactive approach to toxic chemicals: moving green chemistry beyond alternatives in the "Safe chemicals act of 2010." Environmental science & technology, 44 (16). pp. 6022-6023.
Matus, Kira J. M., Trent Yang, Sergey Paltsev, John Reilly, and Kyung-Min Nam. (2008) Toward integrated assessment of environmental change: air pollution health effects in the USA. Climatic change, 88 (1). pp. 59-92.