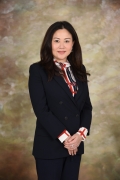 Grace HUI

Adjunct Professor, Division of Environment and Sustainability

Tel: (852) 2358 8363
Email: huigrace@ust.hk
Office: Rm 4412 (Lift 17-18)

Biography
Prof. Grace Hui has more than twenty years of international and domestic banking and finance industry experience. From 2013 until early 2022, Prof. Hui was a senior executive with Hong Kong Exchanges and Clearing Limited (HKEX) during which she spearheaded regular reviews of HKEX's Environmental, Social and Governance (ESG) Reporting Guide and in 2020, initiated a new business for HKEX in green and sustainable finance and founded HKEX's Sustainable and Green Exchange (STAGE).
In 2021, Prof. Hui drove and led discussions with government agencies and regulators including the Hong Kong Monetary Authority and the Securities and Futures Commission on market development and carbon market workstream in order to develop Hong Kong into a regional green finance center.
Prof. Hui is currently an independent non-executive director of Road King Infrastructure Limited, a company listed on HKEX. She is an honorary adviser to the Accounting and Financial Reporting Council (AFRC, a statutory regulator); a member of both the AFRC's Inspection Committee and the AFRC's Sustainability and Climate Action Task Force; a member of the Sustainability Committee of The Hong Kong Institute of Certified Public Accountants; and a member of both the Finance Management Committee and the Global Centre for ESG Education and Research Advisory Committee of the Hong Kong Management Association.
Prof. Hui graduated from The London School of Economics and Political Science with a Bachelor of Science in Mathematical Sciences. She is also a qualified lawyer in Hong Kong and in England and Wales.
Research Area
Sustainable and Green Finance
Carbon Markets
Publications
"Green & Sustainable Finance: From vision to market practice" published by The Commercial Press (H.K.) Ltd. in 2021